Seaside's Future is Upon Us
The path forward has to be focused on Proven Leadership, Teamwork, and putting Seaside #1. These ideals will continue to be my full-time focus and priority.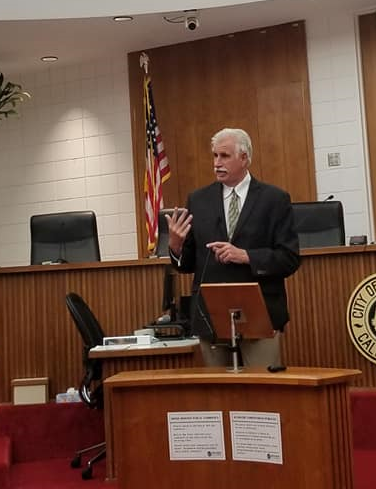 I appreciate the opportunity to serve the residents of Seaside and share my background, ideas, and successes. Over my last two terms, I have proven to have an independent voice, a consistent history of listening to residents and an emphasis on continuing a path for Seaside to achieve excellence through achieving a strong quality of life for residents.

We have made strides to creating a greater community, however, the time is now for actions that create a lasting impact on Seaside's future. Our focus moving forward must center on good paying jobs, 1st class police and fire departments, quality parks, newly paved streets, diversity of businesses and creating available and affordable housing. All of this must be accomplished with a sustainable awareness and action to protect our environment.

I have been an action-driven Councilman that leads by example, community participation, preparation, and communication. I always put Seaside residents first and their voice is heard in practice and policy. In the past four years I have worked on Seaside's development for the creation of jobs, services, and opportunities. I have led efforts in the development and improvement of parks and expanding youth activities. I have been a driving force to enhance the quality of our streets and sidewalks in Seaside.

I am a life-long resident and I served as a city employee for 36 years. I have seen significant positive changes in our community and I value the need to continue our efforts to be proactive in our service to residents and businesses. In my role as a Councilperson, I understand the need to be available to our residents. I understand that, while talk is easy, action through participation and a willingness to learn and be prepared is essential for wise choices for a city on the move.

Prior to being elected to the City Council, I attended the City Council for over 20 years, not because I had too, but because I knew Seaside was my home, my family's home and investment in my community was necessary. In my 36-year work history for the City of Seaside I have promoted family, learning opportunities, creativity, cultural awareness, team building and development. Seaside was my mother's home and where I was raised, developed friends, and played. History has purpose and provides insight into Seaside's past, present and future. My life long commitment to Seaside and our residents is a tool that has been an invaluable guide to our city's future. Awareness of the past, an open mind for change, and the willingness to listen and make the best decisions for Seaside is a lifelong effort with proven results.

These efforts have provided opportunities, jobs, park enhancement, street and sidewalk upgrades along with improved communication with businesses, non-profit groups, community groups and residents. Transparency, sharing of information, reaching out to community through honest dialogue and respect has seen positive results.

The City of Seaside is becoming a leader in numerous avenues. We are no longer the City that could; We are fast becoming the City that is leading, developing, and changing the community and enhancing the quality of life for our residents.