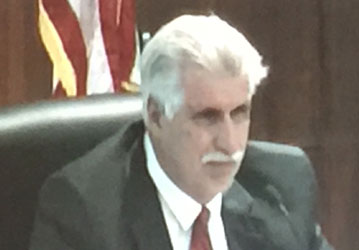 I appreciate the opportunity to share my experiences, background, ideas and successes as your Councilman who worked with independence and vision for Seaside to become a city of excellence.

We need to continue to make strides to develop a City that promotes community, family, jobs, safety and pride. We need to focus on speeding up the process as Seaside's time is now. I have been an action driven Councilman that is promoting Seaside as a first class city.
"I Insist on, "citizens first," at Seaside council meetings so the Council and Staff will listen attentively to the needs and ideas of our great residents."
In the past four years I have been focused on Seaside's development as a strong and influential city that puts residents first through listening, action, and not just talk.
I was a Seaside city employee for 36 years and have been a resident here for 63 years. I have observed positive change but we have a long way to go toward being transparent and responsive to the needs of community, residents and businesses.
During the past 4 years I have been a Councilman who is focused as a participant, chairperson for community action programs, and a leader in creating positive change.
Prior to being elected to the City Council, I attended the majority of council meetings over a 20 year history. In working for the City of Seaside I have promoted creativity, learning opportunities, new experiences and development. Seaside is my home, my child's home, my Mother's home and where I was a city employee all of my working life. This allowed insights into city matters that most do not get to experience. I have dedicated my entire life to Seaside and its residents through providing opportunity, volunteering, and countless other documented successes.
These efforts have provided opportunities, pride, jobs, park improvement, park development, street upgrades along with improved business relations, transparency and respect within Seaside. There is an overall attitude that we can do this.
Integrity
Determination
Performance
"It takes a team to make a community better. This collective effort improves services to all Seaside residents"


Re-Elect
Dave Pacheco for Seaside City Council